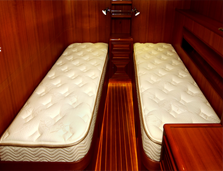 Custom
Options to
choose from
Mattress Pricing
Handcraft Mattress Company sets prices for beds based on your measurements to the nearest comparable size mattress – twin, full, queen and king. For example, if a bed fits the parameters for a queen-size mattress, you're charged the price for a queen no matter if the bed has four or six sides, beveled or square edges.
A number of options also are available:
Custom Hingle-fold
Strap & Buckle
Zippers
Snaps
Extensions
The Number of options you choose also can affect the final price.
For an exact price please call 1-800-241-7751
In Florida, please call 954-714-9997
In Southern California, please call 949-752-7795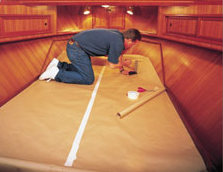 Or just fill out our online form (
please click here
)
---
How To Order
Creating a custom mattress that fits perfectly with your boat's berth begins with a paper pattern. Handcraft Mattress representatives are available in most major boating areas to make a pattern of your berth and process your order.
(Click here for a list of reps)
Or, just call 1-800-241-7751 to have a HMC representative contact you.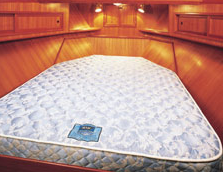 Simple
Easy-To-Follow
Ordering
Instructions
If you are in an area where we do not offer representation, then we offer step-by-step photo instructions to guide you through the process of making a paper pattern that HMC's factory representatives can read and understand.
These easy instructions are available on our website under:
How To Make A Pattern
Simply print out the 1-page, step-by-step guide and take it with you to your boat for reference. Once you have you paper pattern, send it to your nearest HMC factory.
Production time is usually two weeks.