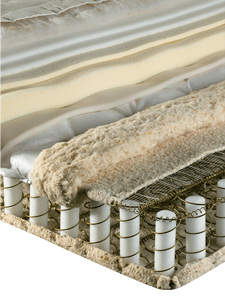 Designed
For the marine Enviroment
The HMC Difference
Where is it written that you have to sacrifice a good night's sleep while aboard your boat?
At Handcraft Mattress Company, we believe the mattress on your boat should be just as comfortable as the one you sleep on at home. For more than 25 years, Handcraft Mattress has been building custom-made, high-quality, innerspring and latex mattresses for owners of boats – power and sail.
In fact, Handcraft Mattress has serviced more than 25,000 customers since it was founded in 1985; nearly half of whom have come back to purchase a new mattress for another boat. More than 50,000 Handcraft Mattresses are still in service today!
Every Handcraft Mattress is designed to fit even the most challenging berth space perfectly with features that include:
Cotton filling and inner button tufting
Latex comfort layers
Cool-touch fabrics
"Our dedication to quality is what sets us apart from our competitors," said Dave Ogle, founder and President of Handcraft Mattress and a third-generation mattress maker. "That's one reason why we now supply boat beds to most of the boat builders in the U.S. " (click here for a list of builders)
Handcraft Mattress also is the only boat bed manufacturer covering its mattresses with a Limited Lifetime Warranty. "We believe in our products so much, that we stand behind them for as long as you own them," said Ogle.
But what really separates Handcraft Mattress from its competitors is its dedication to being the best and their love of boating.
"We don't just sell products to boaters, we are boaters!" said Ogle. "We believe boaters want and deserve better, and that's why our high-quality mattresses have grown to be so popular."
With two factories – one in Florida and another in California – Handcraft Mattress also has the experienced staff to help you design your mattress to fit your boat perfectly. Contact us today and never lose another night's sleep aboard your boat because of an uncomfortable mattress!
The HMC Difference – FACTS
What makes us the best?
Limited Lifetime Warranty so you can sleep well knowing we'll stand behind your mattress for as long as you own it
Experienced team of dedicated and loyal craftsman, many of whom have been with Handcraft Mattress for more than 15 years
Knowledgeable sales staff who can talk intelligently with you about your boat bed needs
We have representatives in most areas who can go to your boat and make a pattern to ensure a perfect fit
In Southern California and Southeast Florida we'll not only measure, but deliver, install and take away the old mattress for free
Perfect fit guarantee
We also offer a complete line of high-end linens and mattress pads
See for yourself why Handcraft Mattress has become so popular with boaters across the U.S.A. Call us today and never lose another night's sleep aboard your boat because of an uncomfortable mattress!